Camera Whore ... Vanity Vixen ... Selfie Queen. I could honestly be called any one of these names. Truth be told, I absolutely love photography and art of capturing a moment in time that could quite possibly last forever. How completely ironic, that just a few years ago, I would have preferred to be behind the lens rather than in front of it. If you recall, one of my first posts discussed my journey to self love. In short, it literally took me years to embrace the young girl, now woman, I see in the mirror. Today? I'm completely love with myself and celebrate every inch of me, even my flaws. Thankfully all that time quietly observing life behind the camera has taught me a thing or two about what elicits a great photo.
Let me preface, while I don't have formal or professional training, I know for a fact that I can brag just a bit on the talents I've developed in photography. Case in point, all of the photos seen on this blog, my Instagram account, or for my webstore have all been taken by me ... Unless otherwise noted (which is rare because I'm a bit of a control freak when it comes to my images LOL). My creative eye for recognizing art behind the camera has been a great asset, especially now that I've become the subject of many of my own photographs in front of the camera.
Having harnessed these skill, my thoughts were to share my top five tips for upping your selfie game and photographing beautiful grments!
Selfie Queen Pro-Tips:
Grab Your Big Girl Panties
Step one? Boss up and get over being timid! No model ever has been shy or reserved in front of the camera and neither can you. If needed? ... I can stop, drop, and pose in front of any camera anywhere at a moment's notice. A prime example of this happened recently, when I was unexpectedly asked by a jewelry designer to model one of her pieces in a room full of people during an artists expo. Minutes later, my shirt was off, and I found myself posing in my bra with an amazing South African necklace draped over my body. The resulting photo was amazing.
While we can all agree that confidence is a spectrum and that it won't happen overnight, do know that in order to get to a place where you can boldly strip off your shirt .. or snap beautifully unique photos on any major street in your city while others stare in curiosity, inner strength is key.
Get Familiar
Know your face and body intimately. Which angles work for you? ... If any ... Maybe you're like me and actually prefer both a full straight on face toward the camera and a profile view. Whichever you prefer, be sure to find it. For beginner selfie queens, one of the best tricks which has helped me learn the uniqueness of my body and transforming it into art has been what I call "camera time." Better than the old "practice in a mirror" trick, setting your camera phone to "selfie" and snapping a few pics can help you not only see how your body looks and moves live on camera, but it allows you to take a couple of test shots in the moment. To do this, I simply prop my phone (or use a tripod) in a location of my choosing and set the shutter timer. With regular practice, you'll immediately know how certain poses and body movements will translate on camera before you even take the shot. Master that, and you're well on your way to producing a specific "look" or feeling at the drop of a dime. If your feeling a bit ballsy, prop you camera outside and practice your "camera time" with potential passersby.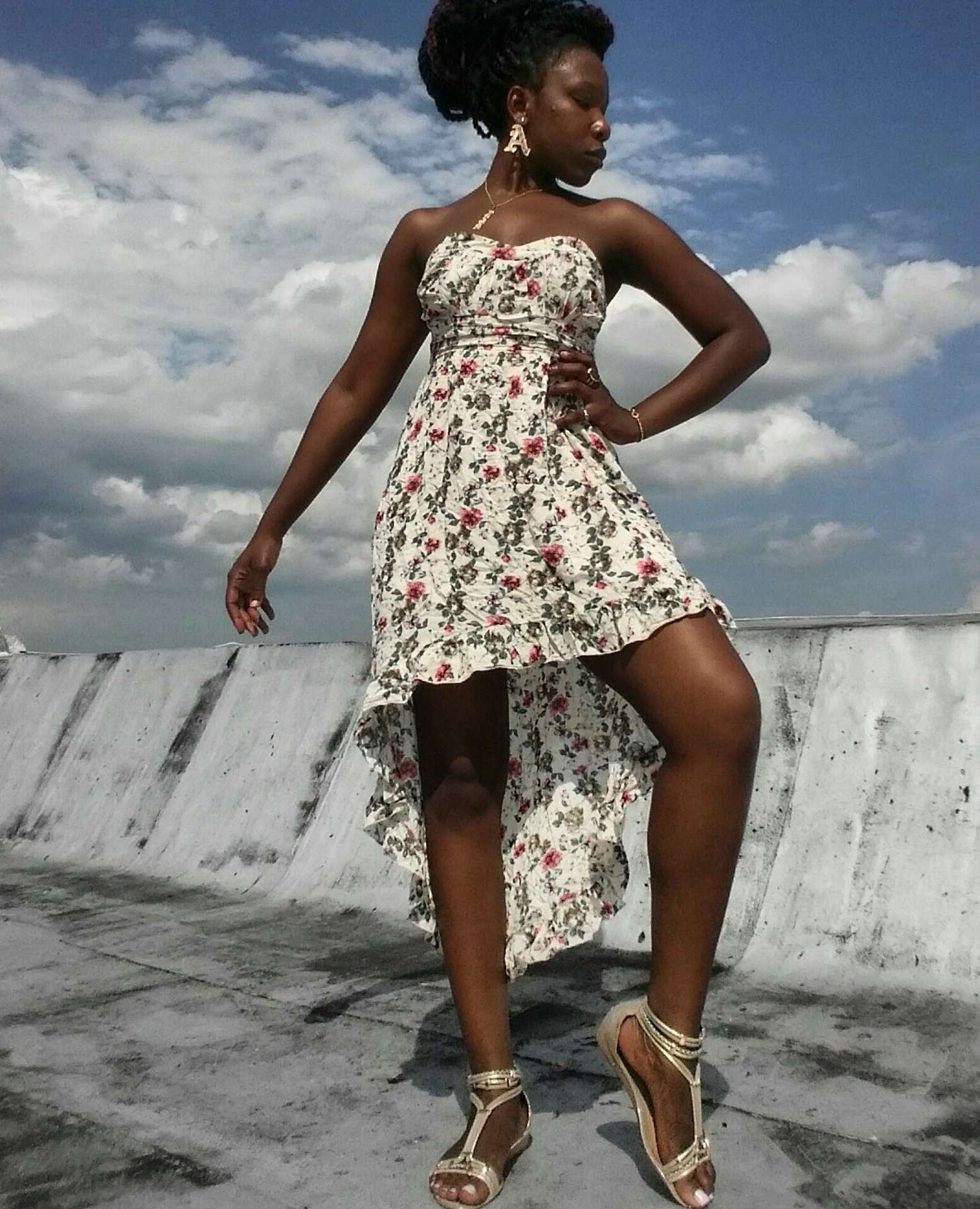 Get Low
With confidence built and a bit more body awareness, the next step is considering the rest of your body. By now you might be giving a fierce model glare to the camera, but what is the rest of your body doing? Hopefully, its something interesting, because if not, a fierce face means nothing and the clothes you're promoting might just fall flat on film. I like trying out funky new movements with my body during my "camera time." While it might look or feel strange in the moment, it could result in capturing some really great magic when you review the film.
Staying in this vein, I come across so many blogs and social media pages filled with folks doing the same boring standing poses. Admittedly, I'm guilty of a few of these on occasion. It's safe, convenient, and always there when you get into a styling rut, problem is? Everyone is thinking the exact same thing. How can your images stand out in a sea of other fashion posts if your poses look like the next persons?
To shake up the routine and get that truly unique, artistic photo, I start playing with my field of view. I'm not afraid to squat, kneel, or position my camera in lower angles to change the view of the shot and add depth. I'll literally get on the dam ground to get the photo I'm looking for. Listen! A true selfie queen has no shame when it comes to the perfect photo. In case you forgot, see rule number one!
It's Lit!
The next crucial step in creating interesting shots, besides a strong pose, is remembering to keep your lighting in mind. Any fashion photographer will tell you "the light is your friend ...Find it!" Finding the light is simply positioning your face and/or body to capture elements of the light ... All of which will be translated in the photo. "Catching light" can highlight a specific part of a photo, cast dramatic shadows, or simply amplify an image with clarifying natural light. Don't be afraid to play around with the lighting of your shots and settings of your camera or camera phone. While natural lighting (light from the sun) tends to be preferred over indoor lighting (which can add a slight yellow hue), both types of lighting can work artistically, just in different ways. Again, don't be afraid take chances. As a foot note, for clear naturally lit images, I prefer taking photos outdoors at 11:00am. For more dramatic images and what I call "shadow play," I prefer 3:00pm and times closer to sunset. The images below show the different tones and looks I was able to create using indoor lighting (1st image) vs outdoor lighting (2nd image).
Show Off
Final Tip, when modeling pieces, showcasing one piece is easy. However, if your goal is to highlight more than one item, from garments to accessories, it's always important to make sure that the items in questions receive equal shine. Here, I styled my friend Tiffany for this look highlighting two items from the Queen Adwoa's Closet webstore: The authentic rabbit fur waist coat and Kayan stacked collars. Each item is beautifully placed and posed with equal view of the camera.
For more complete looks with multiple pieces (say more than two), I make my best attempt to angle, each part of my body in a fun flattering way toward the camera, giving both the ensemble and accessories a chance have face time with the lens. I'm constantly playing with various shapes made with my body, sharp lines done with my legs and arms, shadows playfully casted onto my face, slaying with random swings of my bag, etc. As in most things, it takes practice to master, but once you do? The images you can create will be pure magic!
Share the Journey!